CORE TEAM RETREAT
June 21 & 22, 2018
Pictou Lodge Resort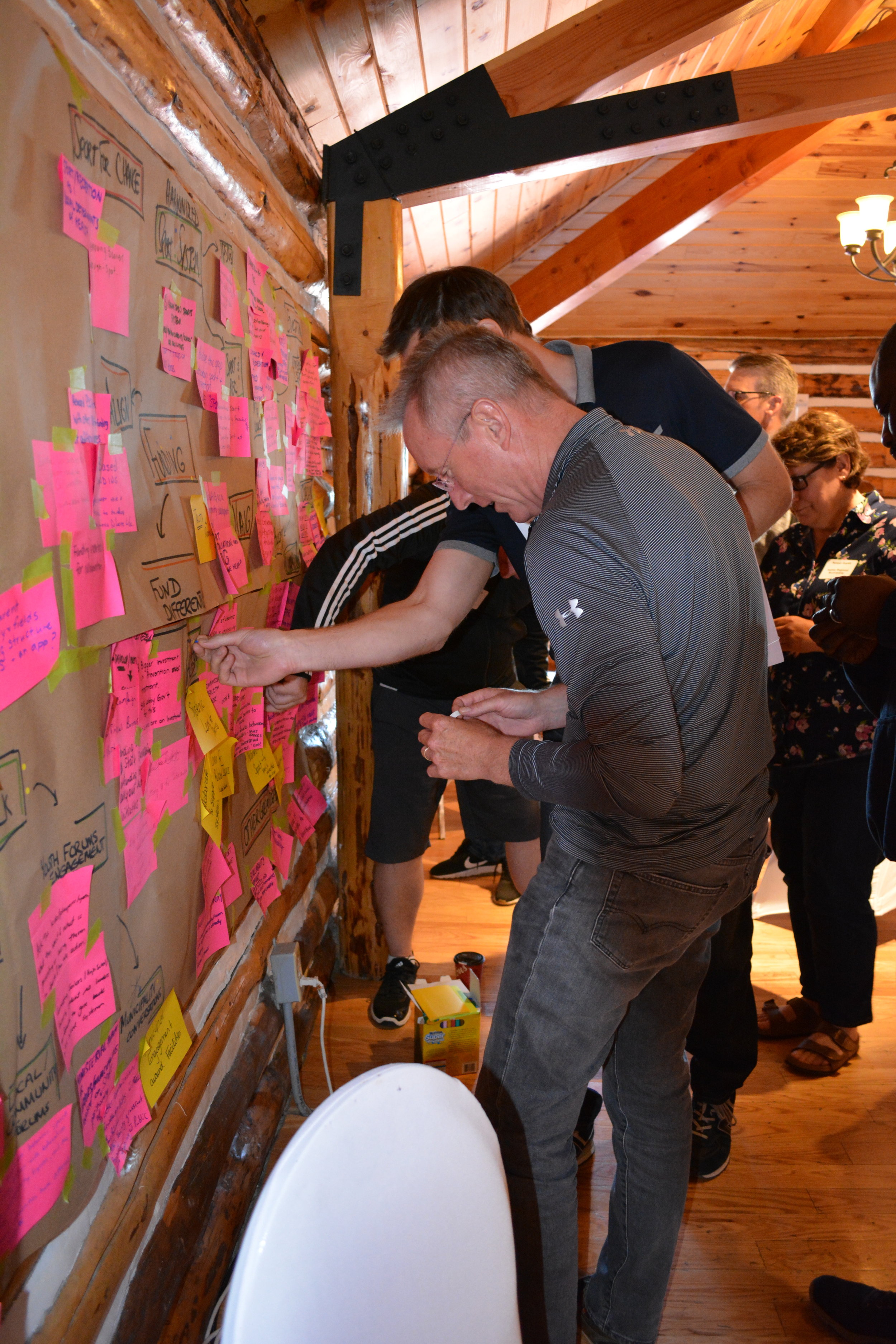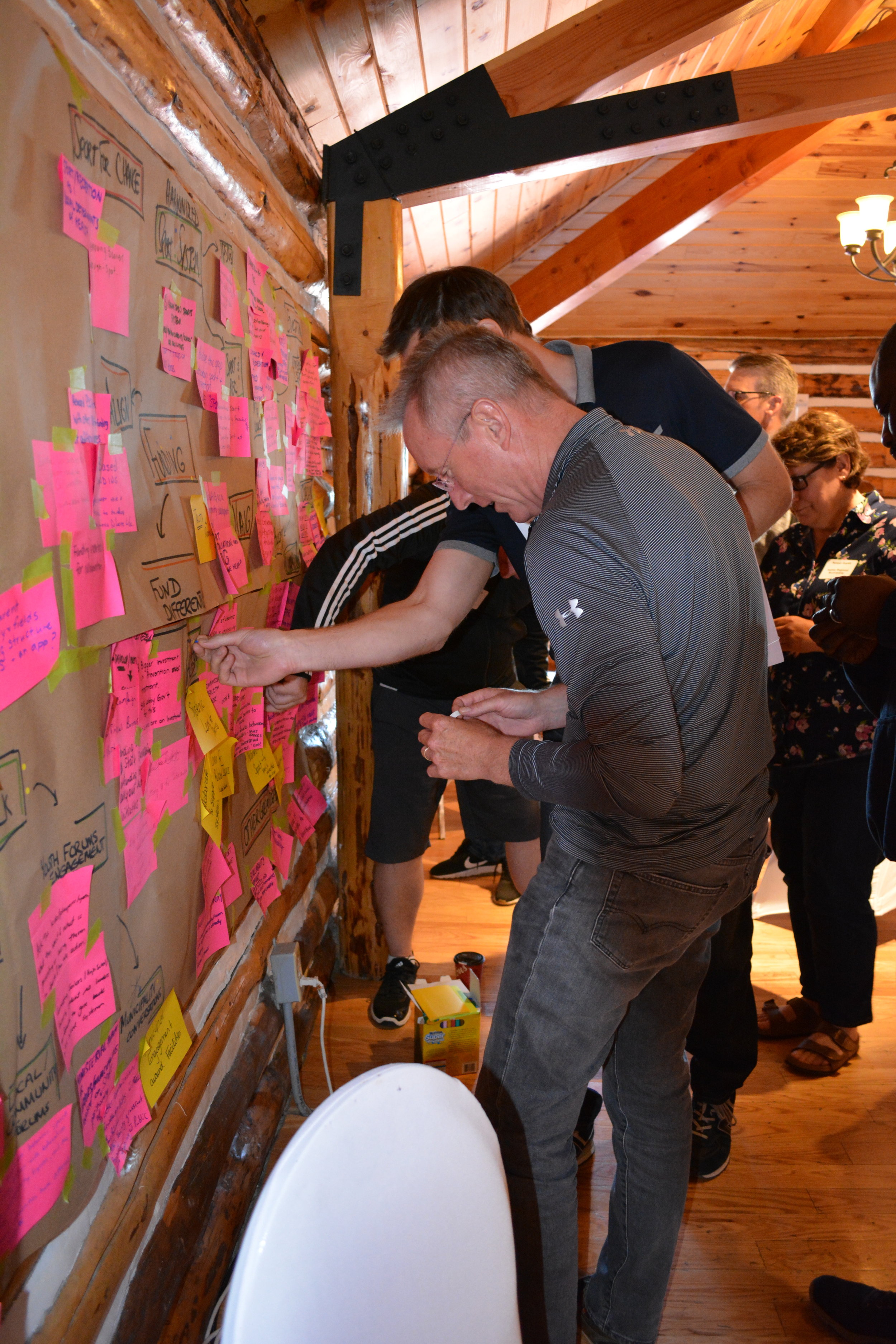 purpose + outcomes
We will identify three (3) clear focus areas, with two (2) prototypes under each of varying scale

We will begin to design an infrastructure to support the work

We will determine results and the quality of relationships required to sup

port those results
Day One
WELCOME & FRAMING: Jamie Ferguson, Aaron Nutting, Tuesday Ryan-Hart & Tim Merry
Full room of new faces; have not done anything like this before.

Want your brains, thoughts, lenses. Looking for something different... something we have not thought about on community sport.

Systemic approach to try to affect change at the community level - not just geography.

Take off your organization's hat and participate as an individual. Your perspective is valued.

Work on processes and solutions.

Let's practice access and inclusion in this room. Happens through intention.

We are building a process that integrates as many perspectives as possible to make impact across the entire sport community.
WHAT EXPLORATION WOULD MAKE THESE DAYS FEEL WORTHWHILE?
JEFF
How do we combine health / education / CHC to place schools at the centre of youth?
WAYNE
How do we ensure broader access to all sports programs?
ANON.
How do we ensure there is equitable opportunity for all Nova Scotians, regardless of location?
JANESSA
How can recreation and sport STOP "competing" for the same kids/youth and offer quality pathways in and out of sport opportunities (i.e. Active 4 Life). Example: rec basketball vs club basketball for age 5 youth.
RYAN
What is our collective definition of sport?
JASON
How do we know the actual challenge in Nova Scotia (local data access system)?
MFL
How do we incorporate sport to address systemic inequities and affect change for under-serviced communities and for youth?
NOREEN
The connection between community recreation and sport (they need each other). How do we acknowledge that some individuals need greater support to participate then what currently is in place?
SARAH
How do we keep people in sport/accessing sport for life (life-long athlete)?
MEG
How can we create a structure that meaningfully supports increased participation, and access to sport, at the community level?
WARREN
What will community involvement look like when it comes to implementing outcomes of these two days?
NATALIE
How can we break down silos to work as a "team" to improve community sport?
NANCY
How can we keep the momentum going after Friday?
ANON.
How can we get more schools participating in sports activity during the day?
STEPH
How do we best support community sport development, both recreationally and competitively?
RAE
How to make it possible that every child can participate in school-based sport? How can we support municipal/ community recreation departments need to delivering affordable, accessible, quality sport experiences?
AARON
How do we reach those who are not participating in sport?
CAROLYN
Nova Scotia is a small province with just 1 million people. What could we do that would have the rest of the country (world?) curious about our success?
CRYSTAL
What can we do to eliminate or decrease financial or structural barriers for under-represented communities? (I would like a plan to do this)
NICOLE
How do we know that we have reflected on community sport values? (hearing the voices throughout the process)
DEANO
Will we identify our core values that will guide everything to bring accountability and standards to achieve goals truly province-wide (voice for sport vs leader of sport)?
AUREL
How can the PSOs/CSOs work more in harmony with education (programming/school sport) to better service youth, coaches and officials?
JAMIE
How can we engage groups/sectors who don't see themselves in sport, but actually are, to become part of the system? As well as groups/sectors who could have a shared benefit.
MELISSA
How can we do a better job of celebrating and supporting our current leaders in our communities (to learn from and better)?
TIM
How can we hold "we're doing awesome" and "we still have a lot to do" as we go forward?
KRISTA
How do we ensure that under-represented, Indigenous and rural populations have access to the same opportunities as urban populations?
COURTNEY
How do we (all) better work together for real change and with a positive impact?
LEO
What standards and values should every sport and rec experience hold? Adhere to?
JEN
How do we bring sport and recreation together for greater collaboration?
BETTE
How can we ensure there is collaboration (buy-in/support) from various stakeholders (facilities, municipalities, healthcare, education, recreation/sport departments)?
JAMIE
Why isn't sport and rec more aligned from provincial to community in this province? Increase collective impact.
TUES
How will we build fundamental values of equity into the next system?
How does the wall match your experience? What COULD you add to make this liVE?
NAIG:
MUNICIPAL CONVERSATIONS:
ACCESS:



MARKETING:

COACHING:


LEADERSHIP:

MEASUREMENT:
DELIVERY SYSTEM:
Truth

Municipal engagement around facilities
Systemic lens on access
Cover for related issues (food, shelter, etc.)
Retention of athletes (flexibility of system to respond)
Collaborate to support systemic response
Rebranding sport (speak to values that open it up)
Develop & define system values (implement)
Regional delivery of training
Distribution of skills (inequitable)
Technology to support training of coaches
Enabling higher-quality leadership
Leveraging higher education to do so
How? What? + targeted support
Examine structural hierarchy within current delivery system for service to communities
We will amplify and harmonize what is working in the current sport and recreation system AND create new structures that trailblaze the next level of sport and recreation in Nova Scotia
> PROTOTYPES
(a) Cape Breton Indigenous Community (capacity-building / multi-sport)
(b) Partnership with PSO/CSO & Municipal/Rec Departments: new multi-sport program or council
(c) Align Sport Nova Scotia + Recreation Nova Scotia
With a systemic approach to access and inclusion, we (this team) will develop and foster practices, processes and initiatives toward a sport system that creates space for everyone.
> PROTOTYPES
(a) Chignicto Region "Access Navigators" (already happening)
(b) Data Collection (identify facilities throughout the province via PSOs: income, population density, club locations)
We will articulate, share and live the values & benefits of sport as a foundation to shift attitudes and transform lives.
> PROTOTYPES
(a) Value of Safe Sport
(b) Value of Sport & Active for Life
WHAT MIGHT YOU LET GO OF TO MOVE FROM 'WHAT' TO 'HOW'?
Things I cannot control & focus on those with my ability to impact

Fear & frustration

Doing things the same as yesterday

Take the blinders off

Uncertainty

Let go of isolation

Removing perfectionism

Fear of unknown/embrace change

Failing is okay / Challenge is good

Embrace the systems change approach & remove blinders
Skepticism

Letting go of expertise

Tone down expectations

Historical paradigms

Biting off more than I can chew

Protectionism

Trust the process

Let go of the little things

Look at bigger picture

Let go of my perception of need for one organization in charge of the whole thing

Doubt

Details

Inherent need for data

Hesitation

Let go of chattering mind

Assumptions
COMMON THEMES
Access
Schools
Recreation & Sport
Collaboration
Values
Specificity/Next Steps
Definitions
Underlying Connections
Which groups are under-represented?
Those with disabilities, rural, newcomers, LGBTQ, African Nova Scotians, under the poverty line, women & girls.
How do we know we're making progress? How do we know we're increasing access?
That's for us to determine.
COLLECTIVE CONVERSATION
1. PARTICIPATION
Broaden our reach
Increase participation of, and overcome barriers for, under-represented groups
2. INDIVIDUAL & ORGANIZATIONAL LEADERSHIP
Develop quality leaders (coaches & admin)
Build strong organizations
3. CULTURE OF SPORT
Celebrate success/tell our story
Achieve meaningful performance progress with our partners through excellence, integrity, innovation and collaboration
TEACH: WORKING WITH CORE TEAMS & SHARED WORK
Core Teams are groups of people who step up to get the work done, and who are willing to do more than just identify issues.
We need a structure (NOTE: Prototypes are not the structure)

We need Physical/Online HUBS (Agendas, Meeting Notes, Budgets, Updates on Prototypes)

We need Teaching & Learning built in

We need an explicit process for decisionmaking & conflict

We need strategies for Core Team member turnover
CORE TEAM (20)
Crystal Watson

Wayne Talbot

Carolyn Townsend

Deano Morley

Kirk Durning

Sarah McNeil

Krista Devoe

Jeff Hutt

Leo Thornley

Jason Hansford-Smith
PAID (1/2) CENTRE (4)
Amy Walsh

Graham Young

Meg Cuming

Carolyn Townsend
Marie-France LeBlanc

Nancy Zanni

Steph Spencer

Nicole Kenney

Courtney Nicholson

Natalie d'Entremont

Janessa McPherson

Bette El-Hawary

Melissa Sullivan

Noreen Guptill
PROTOTYPES (2)
SUPPORTER (2)
Ryan Francis

Warren Edwards
IN CLOSING: WHERE ARE YOU AT?
"Empowered to make change in an area that I am passionate about."
"Extremely excited, and proud, about the quality of the work. Grateful for the relationships built over the last two days."
"These two days could not have gone better. Feeling really grateful and super grateful to the Planning Team."
"Genuinely blown away. Hope this type of gathering happens more in Nova Scotia in other sectors. Feeling hopeful going home."
"Optimistic/bolstered by passion and commitment."
"Validation - can now see tangibles."
"Thankful to Tim, Tues & Jen. Super inspired for the first time in potentially my whole career."
"Raising the bar."
"Appreciate everyone's willingness to share their voice."
"Accomplished."
"Open-minded and continue the momentum."
"Thankful for community members who gave up their time. Awesome couple days."
Enlightened, optimistic, fortunate."
"Grateful and appreciate being a participant of this process."
"Thankful for being invited."
"Impressed and appreciative of all of the hard work. You are a fun group of people."
"Great, committed people. Thank you and congratulations."
"Surprised; exceeded my expectations. Encouraged by all the work we've done."
"Wholesomeness."
"Grateful to be invited. Nice to have energy from the room. Wonderful two days."
"Thankful. Appreciate being heard."
"Excited to see next steps."
"Grateful to have been included and welcomed."
"Absolutely the right people in this room. Level of commitment, from community" people, exceeded my expectations. Invite us to keep in this together."
"Super stoked. Inspired me. Lots of opportunities to connect."
"Very optimistic and thankful."
"Thankful - met wonderful people. Made new friends and relationships."
"Informed and realize have a vested interest in this."
"Very fortunate. Learned so much from everyone."
"Excited and inspired."
"Enjoyed the professionalism and guidance."
PROTOTYPE DEVELOPMENT: TEMPLATES
Click on the images below to see summaries from each prototype.