Participatory Leadership Training (Leadership)
Sept. 16-17, 2019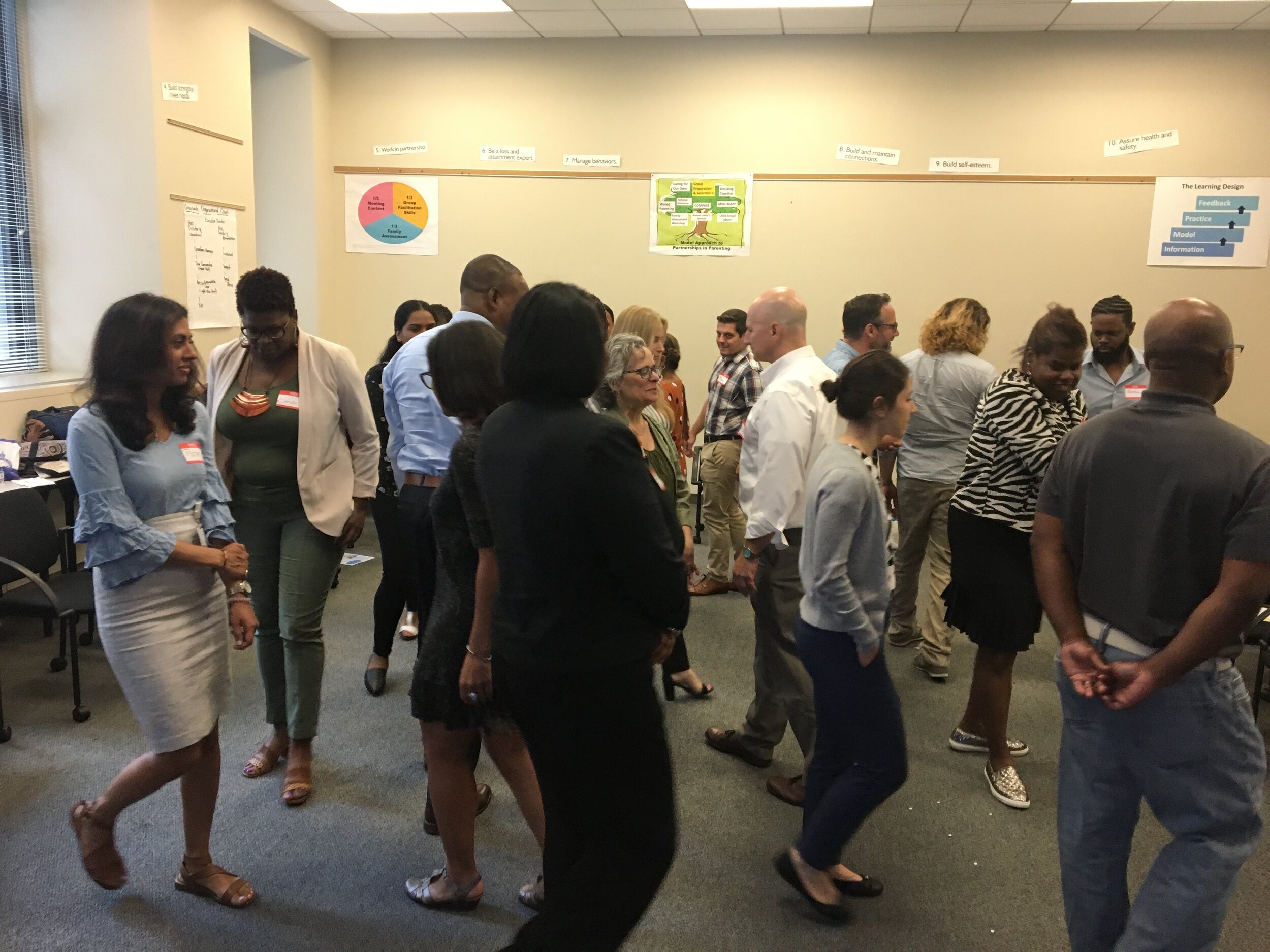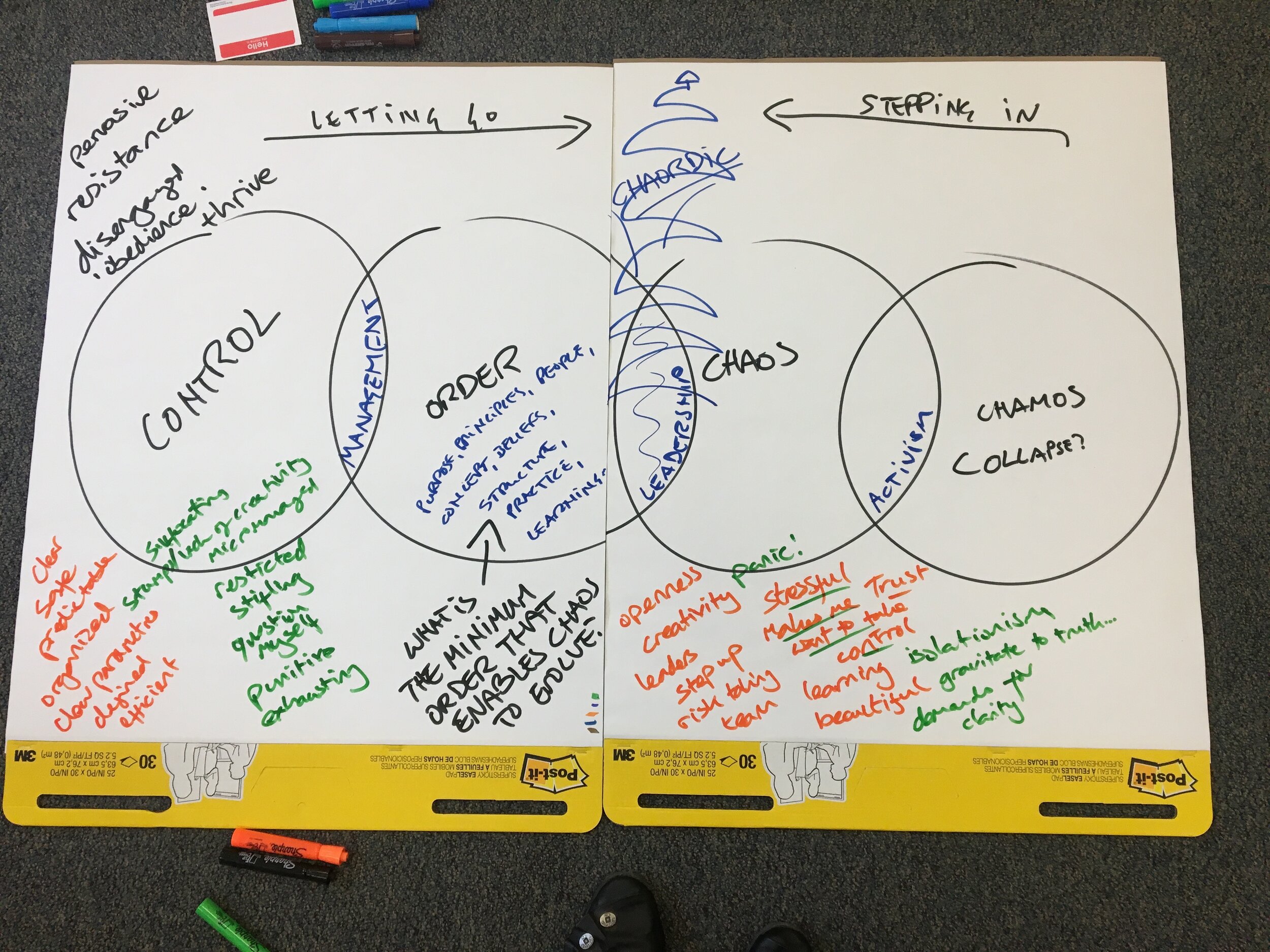 Purpose
To build capacity and further create a shared understanding of participatory leadership as an approach

Share learning & build alignment across the leadership
Outcomes
Increased energy and momentum

A willingness to co-create

Exploration of what it means to be a leader

Articulation of some key concepts/tools around PL leadership will take with them

Understanding of how we are equipping people to practice

Strengthen existing relationships and build new ones to move this work forward
What is our reality?
How do we move groups of people to do systems change? How will we shift child welfare in New York City?
How do we rise to lead change?
We want to explore with you what it means to be a leader and to help you move into relationship. We need to be in enough relationship to do the work together and we need to develop the quality of relationship that can withstand disagreement.
This is audacious work.
Check-In: "What question, if you could make some progress on it, would make these days feel worthwhile to you?"
OVERARCHING THEMES
Trust

Ongoing work - what's the plan?

How?

Moving parts

"My" work to "shared" work

How do we accept & model inclusion?

Hierarchy

Work is across levels (personal-structural-organizational)
World Cafe
Round 1 / Round 2: What are the forces for change impacting you and your teams?
Relationship building is unique & individual - shut down

Narratives have legs

Authenticity, playing "nice"

Giving & getting feedback

Transparency of information / communication

Cautious conversations
Ambiguity between different [shifting] systems (ACS, CUNY)

Fiscally conservative mindset (ambiguity/anxiety & impact)

Training & coaching is prescribed (less inquiry & lack of engagement)

Lack of Understanding / Disconnect - "The Fix" (our perspective, participant/customer perspective, other stakeholders)

Lack of whole, systemic view of need for particular training
Round 3: Where could we focus our leadership and engagement for greatest positive impact?
Identified Alignment with Sensing Interview (SI) Themes
SI Theme: Communication (5)
- Communication and support for each other
- Intentional involvement of frontline staff
- Knowledge sharing
- Commitment to communication and supervision of new projects
- As supervisors, communicate our expectations with concreteness (clarity!!)
SI Theme:
Growth & Development (5)
- Processes and capacity and supporting collective work - how can we improve working together? [Note: intentional of who we are and why we are here]
- Encouraging self-reflection first in order to be able to branch out to your team
- Practice introspection and vulnerability (start with ourselves as supervisors) and then share it out
- Capacity building around receiving feedback from the bottom -> up
- Experience sharing (seek opportunities to experience roles/responsibilities within other work streams) to break down silos [Note: recurring theme since day one - potential prototype?]
- Celebration of all projects (beginning, middle and end)!
- Tighten ACS WI on-boarding process - giving everyone the same honour and energy
- Staff engagement in general - emotional, cognitive, physical - while managing resistance with humility
- Communication and support for each other
SI Theme: Our Trainings (1)
- Communication & Transparency with all staff - pre-develop-launch-implement-evaluate-maintenance/celebration
SI Theme: Why We Are Here (1)
- Building genuine relationships within the leadership team and beyond (community, communication and leadership)
- Building genuine relationships within the leadership team and beyond (community, communication and leadership)
SI Theme:
Show me the money (0)
SI Theme:
A conversation on race (0)
Forward Movement…
Conversation with trainer on the work (increased transparency)

Speaking Up! Having different conversations

Effort to "walk-the-walk" (we are showing up & increased alignment)

Senior leadership at CUNY is coming into alignment
Check-Out: Internal weather check - how are you feeling at the close of Day 1?
Re-energized
Stimulated
Empowered
Intrigued
Reflective
New lens/perspective
Thinking about personal practice
Engaged
Motivated
Opens a lots of personal and professional possibilities
PHYSICAL EXERCISE:
Pairs BLIND-leading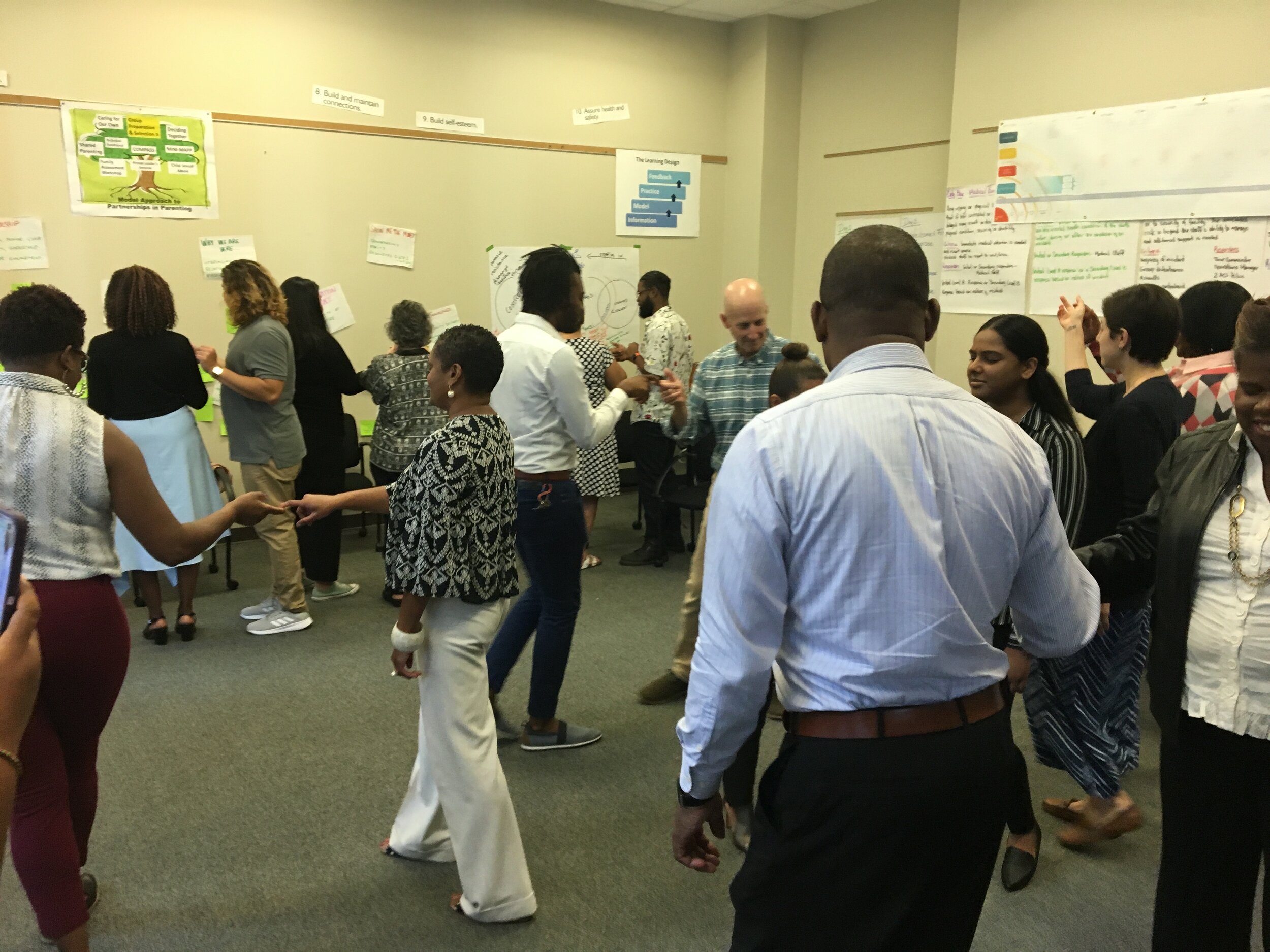 What was your experience of being led?
Trust exercise

Vulnerable

Relaxed

Very easy - gave control over

Felt like dancing

Felt off-centred

Sensitivity in leadership
What was your experience of leading?
Stressful

Care

Responsibility

Didn't like leading someone who couldn't see what I saw

Planning (seeing the route)
What did you discover about your leadership?
Bumps are fine

Be mindful of what other leaders are doing

We all have good intentions

Felt vulnerable, but comfortable

Connection

We are sensitive to each other

Can build trust instantaneously

Such a strong group (relationship)

Felt safe
Teach: beliefs, evaluation & prototyping
What are the beliefs I need to shift in myself to lead in a more participatory way?
"If I don't act it won't get done." Giving up feeling/needing to always do.

Do whatever it takes to get the job done - leads to judgement.

Need to control things to protect my team. Protection leads to lack of space.

Always saying "yes" is not always in my best interest.

That was so easy, why can't everyone do it?

What does smart look like? All tied into '"isms."

Not holding people accountable to preserve the relationship - Shrinking or hiding will make me more likeable.

Tend not to see in myself what others see in me. Need to lead to engagement.

Move away from the belief that there is only a certain way that people can contribute to a project.

Hesitant to enter situations that will create conflict / tell people no.
Pro-Action Cafe:
working sessions
What are some strategies to engage team members in participatory process at team meetings? [Norma]

Leadership reflective process [Adrian]

Communication plan and support during prototype phase [Marc]

How can this leadership team best support ETHOS moving forward? [Kate]

What more do we need as leaders in this transition? [Mark]
Q: What momentum are you carrying out of this room from the last two days?
Two feet in the centre of this group

Excited to see Mark J's prototype. Very excited of what's to come

Enthusiastic - things are starting to take hold

Optimistic about including everyone in the process

Taking an awareness with me - Am I allowing others in?

Struck by the idea of systems being of nature Stop and reflect and more time together. Drawing a lot of inspiration

Cautious sense of clarity and a renewed sense of purpose

Strategy

Curiosity

Language - consistent - modelling

Motivation and aware of intention in this process

Metamorphosis stage - looking forward to communications and participation - the light is coming through
Formation - in process of moving forward, process of changing culture, process of building relationships

Appreciative of colleagues - there has been a shift in energy from our first retreat. We have a lot of consensus and cohesion

Shared language - have words and frameworks to put to things. Have added tools to our toolbox

Am leaving with a very specific action step and am excited to think how we can support each other more

Sense of clarity of this whole practice

Feeling involved and that there is a sense of cohesion and intrigued of how we are going to move forward

Excited to see how, we as a group, will move forward together

Leadership is onboard and happy to bring this message to the Core Team. Feel a larger momentum happening. Feel something building here - we are about to go
Feel more in flow. Really enjoyed the last couple days

Excited to see where you end up. Blind activity observation - so much joy and safety in this group

Renewed sense of connection. Excited to restart engaging with my team

Gratitude for your generosity and graciousness over the last two days and for your beautiful minds.